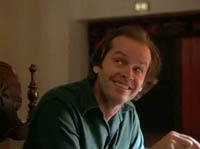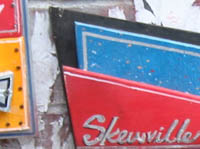 There were a couple links today that I wanted to bring special attention to:
1. There's an awesome remix of The Shining trailer by a guy named Robert Ryang. As part of a contest, Ryang recut the Shining trailer to make it a new genre. All visuals are straight from the movie, the dialog's been edited and a new narration's been added. I just saw The Shining this weekend and loved it, so it's especially fun for me to see, but seriously watch the video, it's fantastic. While you're at it, read The New York Times coverage of it.
2. Skewville does some pretty amazing New York City street art (check out some photos on Flickr). They've opened their NYC "basement laboratory" to the public. Definitely something I've got to check out, and I expect you all should too.
(Bonus Link): Ning is a new online social software playground. As I understand it allows code laymen (like myself) to realize their ideas for social software. Haven't played with it enough to say much more than that, but it certainly sounds like an amazing idea.