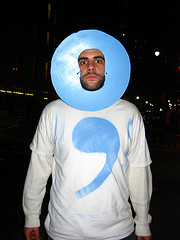 This, ladies and gentlemen, was my award-winning Halloween costume. I was a semicolon.
For the record, when I actually won the award (company Halloween costume contest), I had the full getup on, which included fake claws with fingers missing.
That made me a misused semicolon; I was separating incomplete clauses.
(Boy do I hope that semicolon use was right.)
Anyway, once again this goes a long way to proving I'm a geek.