Alright, it's Monday morning and I'm not sure what to talk about (but have to get that birthday entry off the front page). I figured some links were in order.
First and foremost, however, is some exciting news for me. As of yesterday evening, if you search for 'noah' in Google I am the final result on the homepage. I've taken a screenshot to prove it in case it doesn't last. Ever since the other noah made it I've been jealous of his noahness, but now I share a piece of the glory.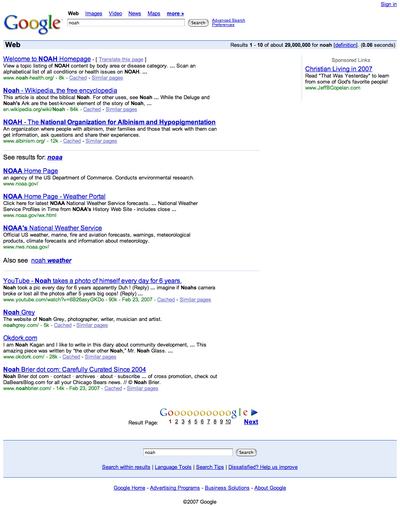 Okay, now onto the good stuff . . .
And that wraps it up . . . Have a great Monday and thanks to everyone who contributed to my birthday book, came out to party, sent me stuff in the mail and just said hello, I can't thank you all enough for making me feel special.