I'm not quite sure why, but I decided that there was a serious need for a drink time this Friday. With that in mind, Adrian Lai and I (hence Lai-er) will be hosting a little post-work shindig this Friday, March 23rd.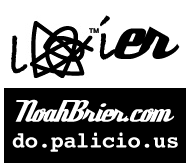 (Logo created in 15 minutes this evening . . . please forgive me Adrian . . . )
Anyhow, the details are as follow:
Where: Sweet & Vicious, 5 Spring Street (btwn Elizabeth and Bowery) (GOOGLE MAPS)
When: 6:30pm (though I may get there a bit earlier)
Why: It's Friday.
I think that's it. Hope to see lots of you there. Also, if this is something interesting to you, please drop me an email or leave a comment and I'll email you in the future when I plan things like this . . . I want to figure out if there's any demand.
For all of you wondering when I will actually start writing again: It's soon, I promise.