First off, a quick reminder that happy hour is happening tonight. Here are the details:
Where: Sweet & Vicious, 5 Spring Street (off Elizebeth)
When: Friday, June 22nd at 6pm until whenever
Second, I've got something awesome to share. While I was away flash ninja, internet genius and all around cool dude Charles Gallant wrote an entry all about inspiration. Using his crazy ninja skills he put a form in the entry and asked everyone to post a link of inspiration which he promised to compile in some awesome way later.
Well, that awesome way has arrived . . . .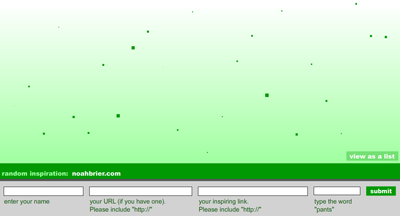 Check out www.noahbrier.com/inspiration and see what other people are inspired by. If you didn't get a chance to add your own inspiration the first time, Charles has been kind enough to put the form right into the flash. It's awesome.
I think that's all. Have a great weekend and hope to see many of you tonight.